The final week of Blaugust is reserved for talking about lessons learned – a week that acts as a bit of a cool down so that we can share our own experiences with this year's blogging. While I haven't earned every achievement on the list, I'm happy that I met my personal goals and posted a couple of times each week. I've scheduled a post for later that covers one of the prompts from the list, but also acts as a part of the goal of getting me to think about what comes next: What are you looking forward to the most over the course of the next year?
Lessons Learned Week (August 27th – August 31st) – This week is a reminder that the goal of Blaugust is to refresh the content creators out there for the coming year, and not to burn them out in the process. Some folks are going to cross the finish line and immediately go dormant and others will want to process their thoughts about the proceedings. This space is reserved as a bit of a cooldown lap so that you can share your own experiences.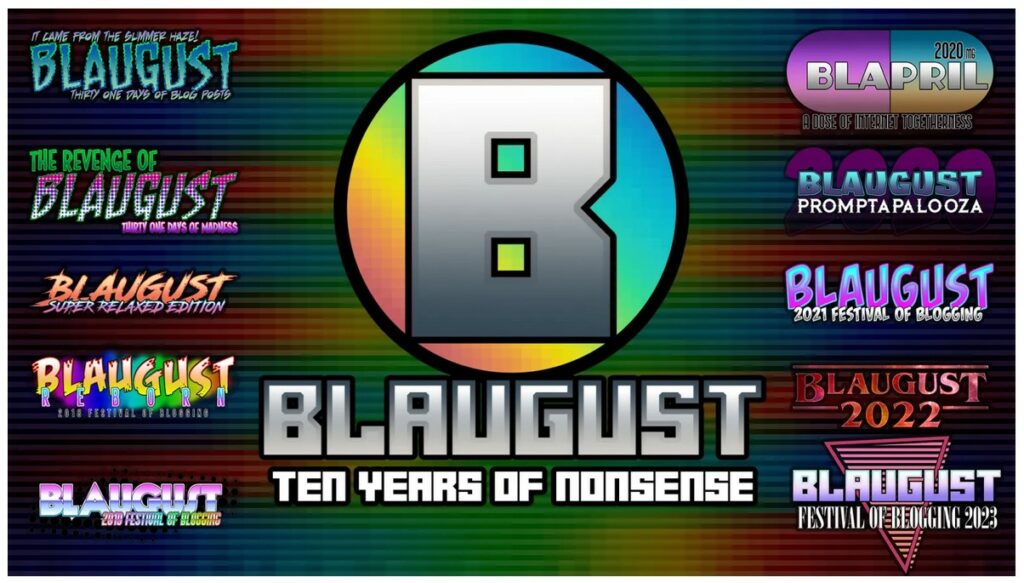 I have 49 posts on my blog that are tagged with Blaugust, going back to 2014 and 2015, skipping a few years when I went mostly inactive on my blog (I started a business…), and picking up again for 2022 and 2023. What this teaches me is that Blaugust works quite well as a way to motivate me to write again. Even in the years I didn't post on my own, I was aware of the event, promoting it to others on the sadly departed Twitter, and reading posts from the participants. This is a great community of supportive people with whom I will chat throughout the year. Many of us will continue to share content from posts we will write outside of the event. Definitely a successful venture.
A wrap up is not complete without sharing my own Blaugchievements, so here they are:
My favorite of these is actually The Pet Tax, and it is one that most people will miss out on if they didn't join the Discord. "The Pet Tax – This one is gained through posting a picture of an animal friend in the "Stuff-and-Things" channel on the Blaugust Discord or by creating a content post devoted to that animal. This is preferably your pet, but if you do not have any pets then posting any cute animals will suffice. This is quite possibly the most important achievement." We have a mix of cute pictures of dogs, cats, birds, guinea pigs, an aardvark?!, fawn, fox and stuffed toys (I guess they count?).
I'd count this year as a big win, not only for me personally, but for the Festival of Blogging in general with a record number of participants, 54 first time participants and 103 overall. I should have 10 posts this month as part of the festival. You can see the links to the participant blogs in my sidebar and I encourage you to go check them out and follow or RSS feed them to your heart's content.
The big question is, will we all continue to post actively outside of the event? I know I plan to go back to my slower pace of at least once a month. There are bunch of new games coming up, expansions to games, and at least one beta test that I hope to get into (that will probably be under NDA, but who knows?!), so I will have a lot that I can talk about. I hope that the other participants enjoyed this year as much as I did and paced themselves. It can be easy to burn out hunting the Platinum achievement of 31 posts during the month, but I noticed that a lot of people got there with style and ease. Here's hoping the event and the people who joined it stick around for the long haul. Happy future Blogging Blaugustians, Blaugsters, Blaugustonians…