As I've read several of the bios and about pages of other Blaugust participants, I've noticed that quite a few of us have dabbled in more than one blog. I thought I'd share one of my favorite, though sadly abandoned, past collaborative efforts.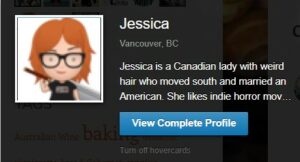 A little blast from my past, a food/recipe blog that a few fellow game bloggers started together. It has been fallow since 2016 and I do miss it. To be fair though, many of the contributors had stopped posting regularly, all but a couple of die hards, so it didn't make sense for the founder to keep the paid version going. At least the free version is still out there, and I found it by searching. The name and idea was the brainchild of Liore, who at the time was actively blogging on Herding Cats. Life and work has happened since then and she is no longer active in these creative ventures, but so far she hasn't completely vanished from Twitter.
I bring you, 8 Bit Kitchen "because you can't save the world on an empty stomach."
8bit Kitchen was a collaborative food & drink site, run by a bunch of friends and game bloggers. We posted about things we made as well as things we ate and drank, all through the lens of our love of gaming. Thanks to the free version of WordPress, this blog still exists. If you love food and hearing about it from some very talented cooks, you should take a look. I still chat with a few of the fellow authors on Twitter, and I wonder if they also miss the blog. I think I'll tag and ask them. My participation on the blog ended at about the same time my own blog went dark for a while. Starting a business is hard and time consuming and it was all consuming for me back in 2015.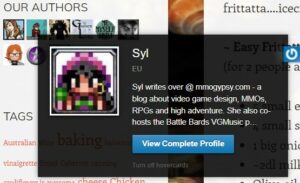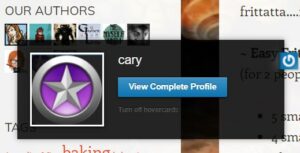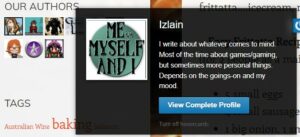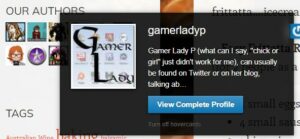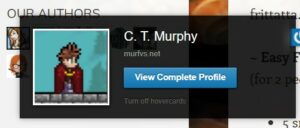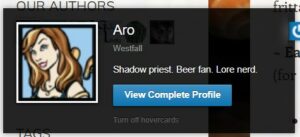 As I was grabbing screen captures for this post, I read back through the recipes. There are some real gems on the site. I had completely forgotten about a few of the recipes that I shared. Our outdoor grill died a while ago, and we replaced it with an indoor clamshell grill, so some of the messier things we used to grill don't work. This Grilled Bananas Foster recipe is one of them, and I almost want to buy a regular grill again just to be able to make and eat it again! Somebody cook it and let me live through you vicariously.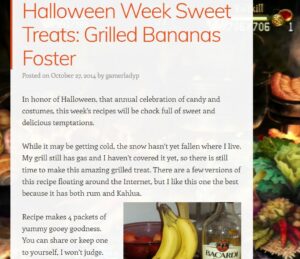 Have you abandoned a blog and have you ever wanted to start it up again? Maybe you did start it back up again and it flourished? I don't think we'd be able to revive this one, we've all moved on to different things, but at least you can still enjoy what we crafted.