Today I'm going to write a bit about Laura Bailey, Troy Baker, the Daughter of the Sea, and Stray Gods: The Roleplaying Musical which was originally called Chorus when I backed it on Fig. Backing Summerfall Studios and their RP musical was a no brainer for me, especially with the people involved in bringing the game to life and their use of Fig to crowdfund. I cannot wait to play a game that is also a musical and adore the concept. The game got some backing from Humble and has a feature on Steam that you can wishlist to keep up to date.
Let's start with Laura Bailey. She's voiced some of my favorite game characters over several games, but I had no idea just how wonderful her singing voice is until I heard her sing Daughter of the Sea from World of Warcraft's Warbringers promos. This is one of my favorite pieces of game music, which is no wonder since Neil Acree was also involved. It gives me goosebumps. I'm excited that she will be voicing/singing the lead in Stray Gods. It is a difficult thing to infuse sorrow and great emotion into song without clenching up or crying for real. Crying clenches up your vocal chords, so kudos to anyone who can sing emotionally without getting TOO emotional.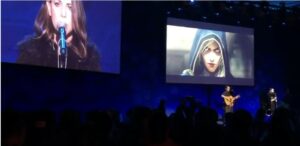 Moving on to Troy Baker who is also an incredibly talented voice actor and brings life to several beloved game characters, including boyfriendo Theron Shan in SWTOR. I learned he is also a great singer while watching a fundraising Twitch stream put on by Felicia Day 4 years ago where she had so many friends show up to help raise money for KeepFamiliesTogether. I don't usually watch hours and hours of a stream, but this one was a lot of fun and a great cause. I scrolled through the hours long stream to find one of the sections of him singing. With Stray Gods, Troy signed on as the Voice Director, but I have to assume that he blends his extensive work in Voice Acting with his music side for a game like this one.
The game's composer is Austin Wintory and with all of these talented people involved, including the narrative writing of David Gaider of past Bioware games, I'm really looking forward to the game. COVID has put a crimp in things for so many games over the past few years, and reading about how they've had to adapt to bring this game to life has been a real eye opener. This is clearly a labor of love from fellow musical lovers. While they couldn't have anticipated what COVID would do to their hope of releasing Fig rewards in 2021, I do hope we aren't left waiting for too many more years.
Are there songs or themes that give you goosebumps and all the feels whenever you hear them? The Star Wars scroll is one of those for me. There are certain songs that just grab my heart when they show up in a game, like The Dawn Will Come did while I was playing Dragon Age Inquisition, or Lelianna's Song from Dragon Age Origins. I still remember being transported by them when playing those games for the first time.