I had a little break after I finished up Solasta's main game and before Palia beta and Baldur's Gate 3, so I decided to give New World another shot. I was originally not very impressed with New World. I played the early access beta and was frustrated with the crowding, resource scramble, and how they originally planned to do storage. If you've read some of my past blogs, you'll know that inventory management is a big deal for me when it comes to enjoying a game or bouncing from it. I am happy to say that Amazon has made some significant changes to New World and I'm pleasantly surprised at how much fun I've been having.
Right now there is an in game event called the Summer Medleyfaire, and it was the perfect time for me to jump into the game. There were extra quests to do for the event, special fishing holes, and a lot of song and dance going on. It feels festive. I've picked up some extra XP and it has been great for levelling up fishing. I was also intrigued by the musical instruments mini game that has been added to New World, and this event was a great way to get all of the different instruments as quest rewards.
I've played for about 46 hours and have made it to level 38 so far. The XP gains feel reasonably generous up to this point, as do in game gold rewards. The gear drops also feel generous and I've been able to pick up and try out every type of weapon in the game as I've done quests. While I think the greatswords are kind of silly looking, clunky and awkward sitting on your back, it may be my favorite weapon to fight with. My hope is I'll find a style of greatsword that isn't as clunky, and can use it with their upcoming gear transmog system.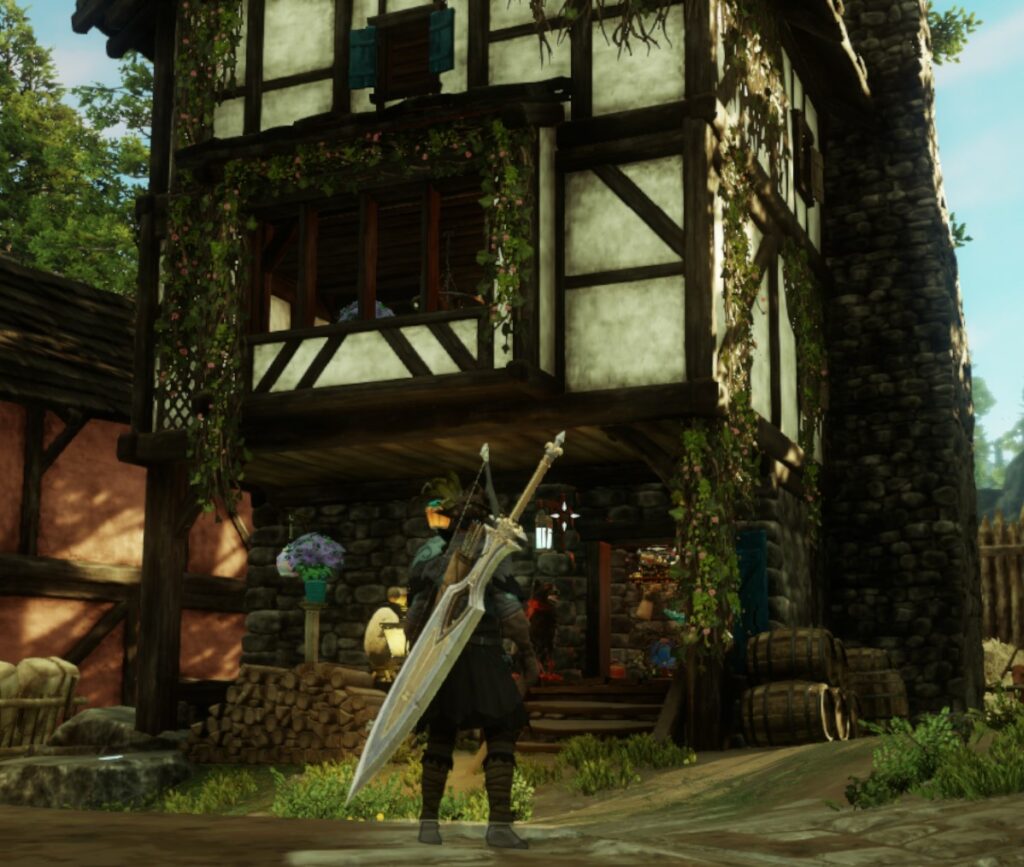 My favorite ranged weapon is the bow. I loved the concept of the muskets, the sound and bayonet is very appropriate to the game's setting, but they aren't as much fun as I'd hoped. The spell gauntlets also aren't as much fun. Figuring out range and targeting is a bit off with them. The fire staff was my absolute favorite in the early game trial because of the flamethrower mode, but they slashed the damage it does. Bow combat is fluid and the damage is solid, although I do have to keep stocking ammo.
Territory standing and faction reputation grinding are the two areas where the game feels less fun to me. The questing, gathering, crafting, skills building has been very fluid and natural. Where I'm beginning to feel the "farm/grind" frustration start to creep into my fun is in trying to increase my standing in the zone where I've decided to buy my first house. I'm partly to blame there, because I want to use the 5000 gold discount you get for your first house to buy one of the higher level houses. If I was willing to settle for the smallest house, I would already have a high enough reputation. Doing all of the quests in the territory and finding all of the locations hasn't been enough to get to 20 standing, which is what I need for the size of house I want to buy. I can tell that pushing for higher standing in each zone in order to buy larger houses is going to require a lot of repetitious gameplay. I'm to the point of doing Town Board jobs (go kill X number of critters, go harvest X amount of wood, etc.), to gain standing in the zone. It is easy, but tedious.
Overall, I've been having a lot of fun in the game. I am looking forward to their upcoming gear transmog system. I have found a fabulous tricorn hat with feathers and pearls that I don't want to give up. I also have some amazing low level pirate coats stored that I want to show. I've enjoyed New World enough that I'm going to feel torn between the desire to keep questing and my plans to start up new games coming out like Baldur's Gate 3.