Welcome to week 3 of Blaugust 2022. For this week's writing prompt, which gains us the Creative Appreciation Blaugchievement, I'm talking about game music, and specifically about a podcast that celebrates it called Battle Bards.
Creative Appreciation – This one is gained by writing a blog post based on the third week's theme of creative appreciation. This has morphed over the year and began its life as a completely different initiate called "Developer Appreciation Week". Now the goal is to focus more generically on those who create things that you appreciate. It could be an artist, writer, game developer, streamer, YouTuber, podcaster, or another blogger. The goal is to share something you love and talk about what makes you love it… and maybe introduce new people to this thing you care about.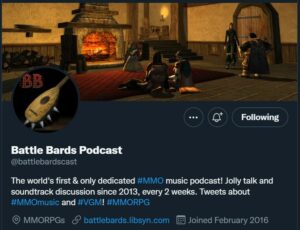 You can read more about them on Massively OP, but here is a synopsis from that site:
Battle Bards is the world's first, best, and only MMO music podcast. Biweekly episodes alternate between examining a single MMO's soundtrack and exploring music tracks revolving around a theme. MOP's Justin co-hosts with bloggers Steff and Syl. The cast is available on iTunes, Google Play, TuneIn, Pocket Casts, Stitcher, and Player.FM.
Music is the element that elevates a game from being cleverly written story and magically coded pixels, into something that pushes all of my emotional buttons. It does the same thing for movies. I doubt Conan the Barbarian would have become the cult classic it is without the amazing musical score by Basil Poledouris.
The Battle Bards Podcast is up to episode 214, and they have more coming out this week after taking a break for the summer. I haven't played even a fraction of the games that they have featured, and I love that they talk about music from MMOs that have died, like Wildstar. One of my favorite episodes of theirs is a special feature episode about Inon Zur, whose music is in some of my favorite games, and many games I haven't played yet. His music is ethereal, and does a wonderful job of transporting me into a game.
If you love game music like I do, I hope you will check out the Battle Bards and listen to their great archive. May it conjure some wonderful memories for you of games that you can't play anymore, games that you may have loved but don't play regularly anymore, or even help you better appreciate the music in games you actively play.