Week 3 of Blaugust is creative appreciation week. There are so many ways to define who and what to appreciate during a week like this one, and yet it is one of the hardest weeks for many of us to do. Who do we shine the spotlight on? Is it fellow bloggers, game makers, musicians, actors, writers, graphic designers… the list of potential creators is vast and broad in possibilities. This week I've chosen to show some love to those unsung heroes behind the scenes who create communities, community managers.
One of the earliest CMs I interacted with was working for Bioware on Star Wars: The Old Republic (SWTOR). Frank/Phoenixred (his co-workers affectionately teased him as Frnak on Twitter), was one of those really genuine people who was willing to converse with his community. He has a lot of in depth knowledge about Community Management and shared a lot of sage advice over the years. Even when he stopped working for Bioware. Back before Twitter turned into a dumpster fire, I kept following him for his insights into that profession. Frankly, I've completely lost touch with him and many of the games people I used to follow on Twitter and it makes me sad/mad.
The first personal touch he showed for me as part of his SWTOR community was when I first started on Twitter and began to engage with the SWTOR community. I lamented that I was still just an "egghead" (my profile was the generic egg), and was trying to find a better picture. He made me an egg wearing a smuggler outfit, smuggler was my first class in the game, and I loved it and used it for a long time!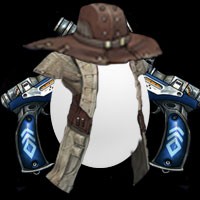 At one point back in the early days of SWTOR, Frank talked about baking cookies and sending them out during the holidays and offered to send cookies to anyone who asked. I jokingly replied that I'd love to try his snickerdoodles, one of my favorite types of cookies. He DMed me asking for my mailing address and actually sent me a lovely batch of delicious cookies. That is dedication to your community right there! Frank/Phoenixred, wherever you are, I hope you are still sharing your community management wisdom and snarking with your long time friends in that industry.
SWTOR was a large game with a rather big community to manage, but lately I find the most impressive CMs are working with smaller studios on smaller or niche games. My second shout out goes not to a CM, but to Elie Young the Executive Producer who took the time to personally fix some issues for Stray Gods: The Musical Game's Fig community. I had some problems with the email account I'd originally used to back the game on Fig and put in a request for support. They reached out to me personally and took care of it, despite being in the late stages for releasing the game. Fig was bought out and dropped some of the older campaigns from the platform that replaced it. I'm sure that added a big burden to the small team at Summerfall Studios, but they handled it with Grace.
My third shout out goes to the Community team at Singularity6 who I've interacted with most recently for the alpha and beta testing of Palia. They are full of enthusiasm and humor and have done a good job of communicating expectations and updates through the rough patches of alpha and beta testing that I've been part of.

They've been in alpha for a lot longer than I've watched the game, but I assume their engagement with their community on Discord has been just as positive all along as what I've personally seen. I'm also impressed with their willingness to share internal processes and planning. I know this isn't unique within games communities, just one recent example that I've experienced. I think the smaller teams and niche games feel cozy and less corporate, and I appreciate that sense of a closer and more human community.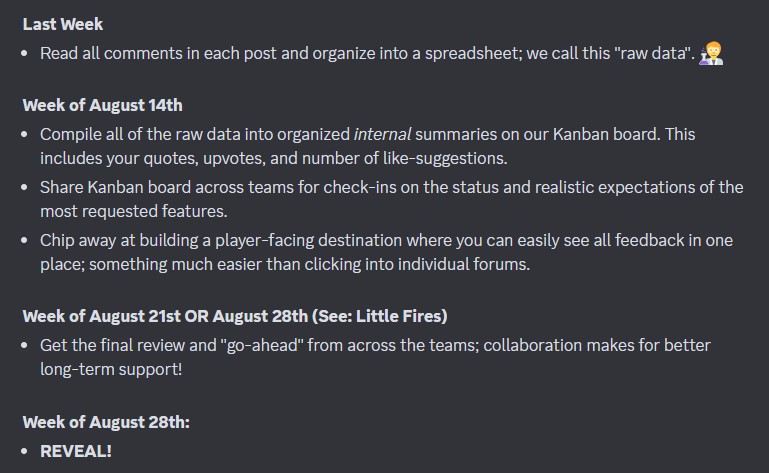 To wrap up, I just want to say how much I appreciate the game communities I've engaged with over the years. The people who have to field some of the worst, but hopefully also the best, of human interactions can make a major impact on positivity surrounding a game. They talk about "tanking" for their teams, and it is sadly very true. I truly wish that they never had to deal with the toxicity that we've all seen, that everyone was willing and able to engage with a community in reasonable ways, but the role of tank and healer is still a necessity. The CMs are often unsung heroes who champion the people that provide positive and constructive feedback about games that they play. Without the efforts of CMs, would games that stumbled out of the gate like No Man's Sky or Cyberpunk 2077, or games with controversial endings like Mass Effect 3 have seen the updates that were made to make them better games? I doubt it, and I thank them for being the advocates that they are.