I was going to leave a few gaps in my Blaugust posts because there will be days when I can't post. However, I don't HAVE to do that thanks to a lovely little feature in WordPress that allows you to set a specific publish date on your posts. Today is the 14th, I have some gaps this weekend, but I also have a gap for the 11th. This little "how to" post is going to be slotted into the August 11 missed date.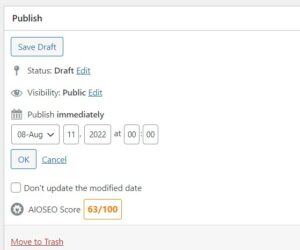 Simply find the Publish section on the post editing page and click the Edit link next to where it says Publish immediately, or if you have already published a post but want to backdate it, next to where it says Published on with a date and time.

Click OK to save your date change.
If you are scheduling a post in advance, you will use the same feature. To have it post at midnight on the selected day, set the time to 00:00. Hopefully little tips like this will help you with your Blaugust posting.